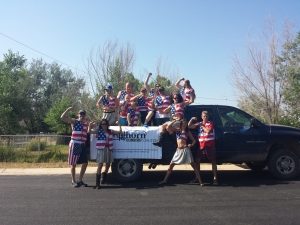 The 2nd annual Bighorn Climbers' Coalition-sponsored and 17th annual Ten Sleep Climbing Festival surpassed expectations this year, with attendance estimated at nearly double the attendance of last year's event, according to the Ten Sleep Brewing Company (TSBC), host of the event. This always fun, always free, open to all ages event featured numerous games, a raffle to benefit the coalition, plus great live musical entertainment provided by Jalan Crossland and Charlie Kardaleff. Onsite supporters included title sponsor Petzl America, as well as Scarpa, prAna, the American Alpine Club, The Place (massages!), and the Bighorn National Forest, with additional support provided by the Crazy Woman Cafe, Canyon Collections, Dirty Sally's General Store, Native Eyewear, Clif Bar, and Joshua Tree Skin Care.
This year's games — from the stop-drop-'n'-yoga contest to the belay-tionship challenge — offered something for everyone, with the ever-popular rodeo-clipping contest adding a second bull plus a timed element.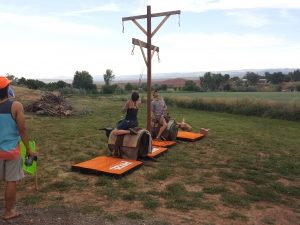 Music kicked off at 8 with Charlie Kardaleff warming up the crowd for Jalan Crosssland, who played until a little after dusk, complying with the crowd's demands for "ONE MORE SONG" with two more songs — the final being the perennial favorite, "My Home is on the Bighorn Mountain."
Before sending festival-goers off to the town's street dance celebration, the BCC drew names out of the raffle for the remaining items, with a special guest emcee appearance from festival-founder Aaron Huey, a Worland native and well-known photographer who also authors the irreverent and much-loved (for the most part!) Ten Sleep climbing guidebook.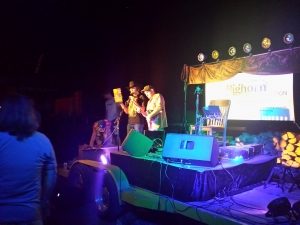 Thanks to all who showed up or who gave support to making this festival a success — and if you enjoyed yourself at the event, or you plan on spending any time climbing in this region this season, please consider making a donation to support the BCC, however small. Every dollar counts!